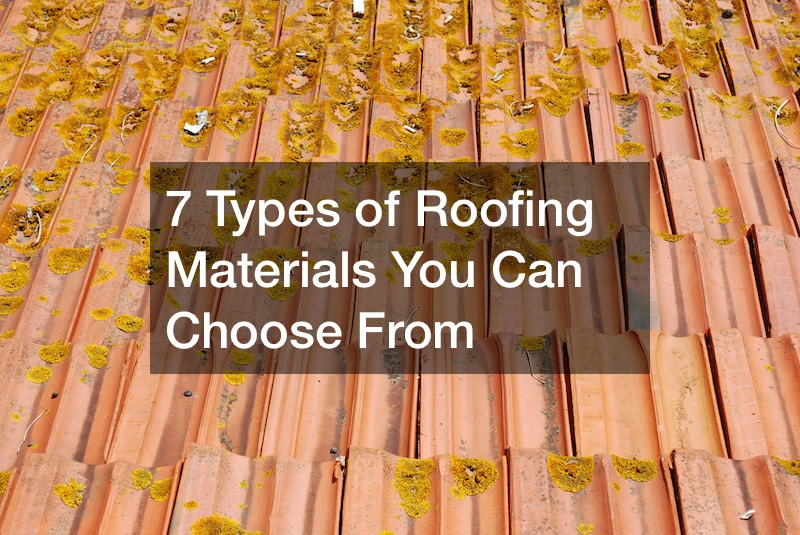 7 Types of Roofing Materials You Can Choose From

A roof is one of the most important features of a house. A roof is the first point of protection for any structure. It protects your home from external elements such as rainfall and helps regulate your house temperature.
Arguably, the roof is also a measure of home value. The condition of your roof can boost or reduce your home's value. Therefore, a quality roof is essential. There're many different types of roofing materials on the market, hence choosing a material for your home can be hard.Types of roof materials to choose for your home
The following are some common types of roof materials to choose for your home.
Asphalt Shingles
Asphalt shingle is the most popular roofing material. The durable and versatile roof restoration material has been on a long journey of improvement since its introduction in the early 1900s.
Asphalt shingles are made up of base mat, waterproof asphalt, and ceramic granules as the top layer to protect it from UV rays.
Today, the roof material is available in a variety of colors, styles, textures, and profiles. Asphalt shingles can even be designed to look like wood, slate, and cedar wood roofing. An asphalt shingle is either organic or fiberglass.
Organic Shingle – An organic-based shingle consists of a base mat made of cellulose fibers that come from recycled paper, wood chips, cotton, or wool rugs. The shingle is then coated with asphalt on both sides to increase its effectiveness.
Fiberglass shingles – Fiberglass shingles are identical to organic shingles in appearance and installation. However, instead of a paper-based mat on the organic shingle, the shingles are made of a fiberglass base. Because of less asphalt in these shingles, fiberglass shingles are lighter than organic ones.
Pros of Asphalt Shingles
Low-cost – Asphalt shingle is the most cost-effective option among the types of roof materials to choose for your home. Shingle roofing is the most economically viable option both in material and labor costs.
Easiest to install – Asphalt shingles are so light. They are therefore easy to cut and install. Very little preparation work is required. The installation also requires no special tools, making the process less time-consuming.
Long lifespan – Asphalt roofs can last for 15 to 50 years. Heavier shingles have a longer life span. Warranties run for as long as 30 years for high-quality asphalt materials.
Cons of Asphalt Shingles
Vulnerable to wind uplift – Low-quality asphalt shingles are more vulnerable to winds. Strong winds can cause the shingles to detach, thus causing the roof to leak.
Environmental pollution – Shingles are products of petroleum and fiberglass, which are major environmental pollutants.
Metal
When it comes to the types of roof materials to choose for your home, metal takes a considerable proportion too. According to Global Market Insights (GMI) "Metal Roofing Market size is poised to gain notable proceeds through 2028 due to the increasing number of commercial construction projects and the rising instances of government-led funding in developing economies."
There are 5 different types of metal roofing materials:
Copper Roofing – long-lasting, soft, and has low melting temperature. A copper roof will develop a protective layer and change color over time. It's the most expensive metal roofing material.
Aluminum Roofing – Lightweight, non-corrosive, and highly compatible with the coastal atmosphere.
Zinc Roofing – The extremely long-lasting metal has the lowest melting point. It's expensive and changes color with time.
Steel – The most common metal roofing type. It has three different finishes: galvanized steel, galvalume steel, and corten steel.
Tin Roofing – Also referred to as steel roofing. This roofing type was popular before World War II. It's no longer used.
Pros of Metal Roofing
As one of the top types of roof materials to choose for your home, metal roofs offer many benefits, including:
Long life span – a metal roof can last for 40 to 75 years, depending on the type.
Strong roof – If correctly installed, most metal roofs can endure wind blasts of up to 140 miles per hour.
Low maintenance – Unlike other roofing options, metal roofs don't need periodic costly maintenance. The roof should, however, be inspected regularly to ensure no repairs are required. You can hire a roofing company where roof restoration is needed.
Safety – Metal is highly resistant to fire, meaning your roof won't burn in the event of fire or lightning strikes.
Energy efficiency – Metal reflects the UV and infrared rays from the sun. This helps reduce heat gain to keep your home cooler. You can save 15 – 25% on home cooling costs during summer.
Environmentally friendly – Metal roofs have 30-90% recycled materials. Besides, metal roofs are 99.9% recyclable at the end of their useful life.
Cons of Metal Roofing
The following are potential drawbacks of metal roofs.
High cost – Metal roof installation can be two to three times more costly than other roofing options. While metal roofs have the longest life span, investing in them only makes sense for commercial buildings or if you plan to live in a home for an extended time.
Noise – Metal roofs can be very noisy when it rains. Adding attic insulation solves the problem, but that means increased cost.
Rusting – Some metal roofs rust in certain climates. The rust may cause dents more so during hail storms.
Wood
Wood roofing is the oldest and one of the most classic types of roof materials to choose for your home. It's a classy, attractive, and rustic roofing option that's also very durable and energy efficient.
There are two types of wood roofing materials. Wood shingles and wood shakes. Wood shingles are typically sawn on both sides, are thinner, and are machine-made. Wood shakes, on the other hand, are hand-made with hand-held power devices and are more stylish.
Wood roofs are constructed with these types of wood:
Cedar shingles
Wallaba shingles
Teak shingles
Composite shingles
Cedar shakes
Pine shakes
Advantages of Wood Roofing
Stylish – A wooden roof gives a stylish appearance that boosts your home's overall value. Experienced wood roofing contractors are all you need to give your home a touch of elegance.
Natural material – Wood roofings are made of natural wood, making them an environmentally friendly option.
Energy efficiency – Wooden roof provides a natural layer of insulation that keeps your home warmer in winter and cooler in summer.
Cons of Wood Roofing
Less fire-resistant – Untreated wood roofs are more prone to fire than other roofing materials. This is the reason why wood roofs are banned in areas prone to fire hazards.
Vulnerable to insects – Wood attracts pests and insects like insects such as termites, wasps, and wood borers. Roofers recommend regular inspection to prevent roof damage by insects.
Tile
Tiled roofs are attractive and durable. Though heavy and expensive, roof tiles can last for over 100 years.
In the past, roofing tiles were mostly made from fired clay, slate, or terracotta products. In contrast, today's roofing tiles are made from concrete.
Roofing tiles are available in a variety of shapes: curved, fluted, interlocking, or flat. The tiles are also available in many styles: Spanish, Scandia, Double Roman, Flat shake, Pantile, Barrel, French, and Riviera.
Pros of Tile Roofs
Long-lasting – This is an important quality among all types of roof materials to choose for your home. A new roof tile can last for over 100 years under the right climate.
Impervious to decay and insect damage – Unlike a wooden roof, a tiled roof neither rots nor attracts insects.
Environmentally friendly – tiles are made from concrete which comes from earth minerals and can be recycled and pulverized.
Energy efficient – The bulk thermal mass of roof tiles helps regulate your home's indoor temperatures.
Low maintenance – Concrete roof tiles require minimum to no maintenance.
Cons of Roof Tiles
High cost – A roof tile is not only expensive to buy, but also requires a professional roofing contractor to install.
Difficult installation – Roof tile installation is not a DIY project.
Tiles are brittle – Unlike metals, tiles have low tensile strength.
Not suitable for all roof slopes – Tile roofs are only suitable for roofs with somewhat sharp slopes.
Clay
Coming into the limelight around the 12th century, clay roofs are still highly used in 2022. Clay roofs have survived many years of innovation and proved that they are a fundamental roofing choice.
Clay roofing provides homeowners with an aesthetically pleasant and durable roof. The roof requires minimal to no maintenance and can last for a century. Residential roof repair is essential when the clay is broken.
With new, innovative technology being developed, clay works manufacturers are now making more reliable, stronger, clay tiles that fit modern homes.
But what makes clay tiles so popular after centuries in the market? The following are some of the reasons.
Pros of Clay Roofings
Aesthetics – The look clay roofs give to your property is absolutely stunning. The different tile styles provide a broad range of customized options for your home. Also, clay tiles are so versatile that they can be changed for styles like colonial or medieval, to contemporary and modern.
Longevity – Clay tiles have a long lifespan compared to most roofing materials. On the lower end, you can expect at least 60 years of a clay roof.
Eco-friendly – Made from natural soil, clay tiles offer great environmental benefits both through their manufacturing, installation, and after-installation. Their eco-friendly components mean no harmful gas emissions during their production.
Cons of Clay Roofing
Heavy material – A clay tile is in all aspects the heaviest roofing material. Because of how heavy a clay roof can be, it's necessary that your home has the proper structural reinforcement.
Fragile – Brittle clay tiles will likely crack when under pressure.
Costly – Clay roof installation can cost about three times the cost of installing normal roofing shingles.
Green Roof
Also referred to as a living roof or eco-roof, a green roof is a vegetative layer growing on the rooftop of a building.
To make a green roof, residential roofing services modify your rooftop by installing a waterproof membrane that supports the growth of food crops, flowers, and other plants.
Green roofs are either extensive or intensive. An extensive green roof has a shallow layer of growing substrate spread over a large area. An intensive green roof, in contrast, has a deep layer of substrate, compacted into a smaller area.
Pros of Green Roofs
Here are reasons why green roofs make one of the best types of roof materials to choose for your home:
Air purification – According to studies, green roofs can reduce 37% of sulfur dioxide, 21% of nitrous acid, and 0.2kg of dust particles per square meter in one year.
Durable and aesthetically pleasing home – Green roof can double or even triple the lifespan of your roof.
Rainwater Retention – Rainwater runoff is a big problem during heavy downpours. A green roof absorbs a significant amount of water and helps prevent flooding. Other benefits include improved urban biodiversity, sound insulation, and improved drainage.
Cons of Green Roofs
The disadvantages of installing green roofs include extra expenses, increased weight load of the roof, and greater maintenance and care required.
Solar
Solar roofs are the newest entrant in the list of types of roof materials to choose for your home. As solar power popularity increases, there's a desire for more innovations when it comes to the versatile industry. Solar shingles and tiles are fast becoming the most popular option. Solar shingles are panels designed to mimic conventional roofing materials.
Why Install a Solar Roof?
There are several benefits to why the solar roof is one of the top types of roof materials to choose for your home.
Reduce energy bills – Just like with solar panels, solar tiles will significantly reduce your energy bills, saving you money.
Aesthetic – Solar roofs are stunning and integrate well with other types of home roofs, including asphalt and concrete roofs.
Dual-use, sustainable roof design – Solar roofs provide electrical power to your home while protecting your house from sun, rain, snow, and wind.
Cons of Solar Roofs
Non-orientable – unlike solar panels which can be tilted to capture as much sunlight as possible, solar roofs are fixed and non-orientable.
Lower production capacity – The production capacity of solar tiles is very low compared to that of solar panels. This is caused by the low number of photovoltaic cells in the solar tile, unlike solar panels which are full of photovoltaic.