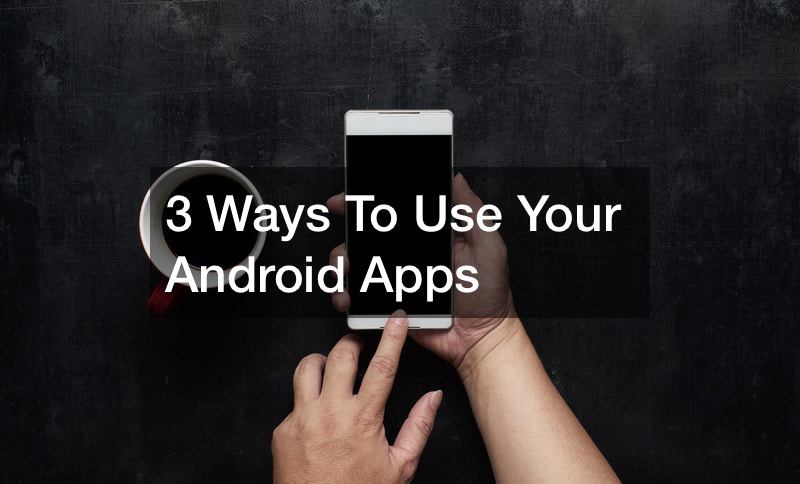 3 Ways To Use Your Android Apps

Can you imagine your life without your mobile phone? Our phones have become such an important extension of ourselves. They are our key to the rest of the world since they provide access to our most basic needs, our families, and the global community as a whole. Almost everything we do has an app made specifically for it. For instance, there are mobile apps for ordering food, buying groceries, and ensuring the security of our homes. In other words, we have become overly reliant on apps. Did you know that with all the random apps on Android, there are now apps that even help with things such as roadside assistance, pain management, and home renovation? App developers are very busy at work worldwide trying to offer us new ways to make our lives easier through the use of apps on our android mobile phones. That being so, this article will touch base on how some of the most random apps on Android can assist you in these particular areas.
Auto Roadside Assistance
Let us start with the auto roadside assistance apps. Imagine being on a road trip, and you get a tire puncture while on the highway, in the middle of nowhere. You are alone, and you are too far for anyone to help you. Also, you don't know how to change a tire!
What do you do? Most people would be at a loss for what to do next in a situation like this, but after reading this article, you will know that as long as your phone is on, then you are absolutely fine.
With all the random apps on Android, there are many applications that can help you in emergencies, including roadside emergencies? You can contact someone to come and help you change your tire and then be on your merry way. It is as easy as that.
If you are too far away, the correspondents on the app can go as far as to send you a care package and take care of you while you sit down, relax and watch your car getting fixed. Exciting, right? Some even go so far as to bring you another car. As you can see, the possibilities and convenience offered by apps are many.
In some instances, when you get your car insured, the insurance company may offer you a roadside assistance app that has features like being able to get light duty towing services in the case of an accident or a breakdown. Light-duty towing services are mainly for your sedans and city-driving cars.
Also, if you have a roadside assistance app on your phone, you can activate permissions in your phone that allow the application to track your phone and find your exact location. Because, let's face it, sometimes we really don't know where we are when these things happen. In major incidents such as an accident, you can use your app to hail medical services and law enforcement to assist on the scene.
You don't have to wait for someone else to make the call. This has allowed many lives to be saved, especially if a person is in a more secluded area and has no access or very little access to other people.
With your android watch, you can keep track of your vitals in case of an accident or in case a medical emergency occurs while you're driving. Essentially your phone can look after you simply by downloading a suitable app on Android with roadside assist features.
Another revolutionary thing that developers have done, especially with modern cars, is that they have inserted android apps with the same functionalities in your car. This means that you don't necessarily have to have your phone on anyway because your car is also an extension of your phone.
This is a necessary development because if you are a driver, you might spend the majority of your time in your car to and from work or to your kids' schools if you have any, and so on.
Pain Management and Physical Therapy
The second thing you probably wouldn't expect to be able to do with your phone is pain management and physical therapy. That's right. You can save yourself a trip to the doctor! Well, sometimes. Please note that these types of apps are in no way a replacement for an actual physician and medical assistance from an actual doctor. If you are someone living with chronic pain, there are now a few ways that you can use your phone to find methods of relief from any pain that you may feel. You can also order your medication on these apps without having to leave the comfort of your home. This is one of the perks of smartphones. The need to drive to the pharmacy is no longer necessary32, especially if you know the type of medication you require. You can download apps to track the progress of treatments from your nearest pain management clinic, or you can find the best back pain relief methods.
You can also find random Android apps that have virtual coaches that can help with physical therapy. This is particularly helpful, especially in these current times where it is recommended to have minimal movement due to the pandemic. It's kind of like exercising online, except now you are doing your physical therapy sessions.
The great thing about apps is that you are always a pocket or handbag away from your person. In essence, if ever you had a sudden onset of pain, people around you can look on their phones and find vital information they can use to help you. They can also get information about your condition by looking at the data and information stored on your android phone if you have an emergency.
Due to the number of random apps on Android, you are able to find different and alternative solutions to your pain management and physical therapy journey. Some apps offer painless treatment or alternative treatments such as meditation and sleep therapy and you can find these in seconds simply by searching for what you need.
When you search for a specific app on your Android smartphone, a lot of options can appear. However, you can rest assured that you will find the one that is best suited to you. The smartphone and apps revolution has made it so that even the ailments that we have can be catered to and that we have easy access to healthcare. There are even apps that have doctors on call twenty-four seven to answer any medical questions you might have.
Your life now depends on your phones because now, no matter where you are, you can search for the nearest doctor, and get the help you need on time. Apps are also great because they come with helpful reviews. This allows you to determine which app is best for your needs based on other people's recommendations.
Home Interior Renovation
The smartphone has also helped revolutionize the way we carry out our home interior renovation. You don't necessarily have to hire an architect or a professional design team in order to carry out your home remodeling projects. Many random apps on Android assist in creating floor plans and picking out furniture for your new space.
You can use the apps on your phone to find out how to carry out DIY projects such as DIY cabinets, DIY ornaments for the house, and so forth, to name a few. There are so many advanced apps that all you need to do is take a picture of the room you want to renovate, and the app creates a floor plan for you. Once this happens, you can virtually create the space that you want to end up with.
The DIY feature is a very useful tool in your renovating process, as taking on an interior renovation can be quite costly. If you have a bit of a creative streak, then apps with DIY tips and tricks can help you develop some of your own projects and save large amounts of money, depending on how much of the project you can do by yourself.
Another app feature that assists in the design process is being able to "paint" your rooms without painting them. Being able to see what a room would look like if the walls were painted a certain color can save you a lot of money and time! You are able to avoid using colors that you would later regret and hate to see. Interior renovation apps also include being able to have a contractor on hand. It's similar to ordering a car service or a delivery service except in the form of a contractor or an architect.
With the number of random apps on Android, you are also able to create and manage your budget using your phone. This way, you will always have your budget in check as you can connect your bank accounts and virtual wallet to the app in order to keep track of your expenses and how much you have left.
Building a home can be time-consuming and draining. Having a good grasp of what you want to do with your home can greatly assist the process of renovating to move along faster and smoother. Android apps help with organizing when your contractor is coming, estimating how long it will take for the building process to occur and where you can get the materials you want for the build. You can even do your shopping for the renovations online and pick furniture without even moving an inch.
So, as you can see, all those random apps on Android aren't so random after all. They assist in life-or-death situations, they help save money, and they can help you get information that you wouldn't usually have such easy access to. In a nutshell, they make our lives easier than ever.
Can you imagine that not so long ago, the concept of being able to design your house by yourself was literally only that? An idea! Also, not only are these apps helpful in all the ways that have been mentioned above but they can also be used in your own language due to the language immersion program by Android.
Now it doesn't matter where you are from. You can use an app completely in your own language or another language if that tickles your fancy. By doing this, Android has made its apps so accessible to everyone in the world, regardless of where they are. We have the world at our fingertips
Why Download Apps?
The global village is expanding simply by the existence of the smartphone. So, remember every time you look at all those random apps on Android, there is most likely going to be an app available for what you need or a person on the other side of the app ready to assist you!
All in all, the advantages of apps on our phones are so many. We can do simple things like switching on the lights in the house from our phones because of home management apps. We can save lives by having apps that allow us to have quick access to our doctors
We can exercise and perform wellness exercises without breaking the bank and putting ourselves under unnecessary strain. We can also put our visions on paper without knowing how to draw and still have a clear picture of the finished product
These apps are so useful and helpful it's a wonder if we will be able to function without them in the future. Hopefully, after seeing this article, you can rest easy knowing you never have to get stuck in the middle of the road for too long and that you know exactly what that new house is going to look like once you're done with it. And for those with chronic pain and who can't move around so easily, there are many Android apps available to assist with pain management in the best possible way.