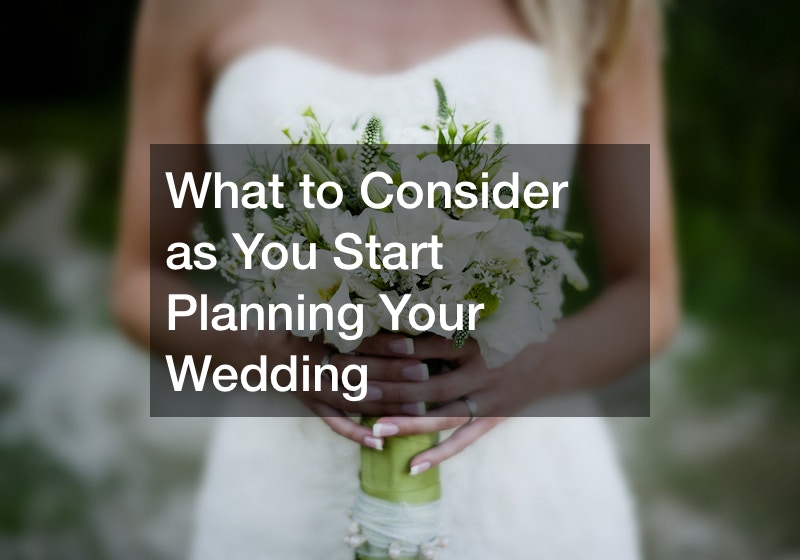 What to Consider as You Start Planning Your Wedding

Your wedding celebrates an exciting new stage in your life. While weddings are often described as being magical, it does take a lot of work to assemble all the ingredients to make the magic happen. Make sure you consider these elements as you start planning your big wedding day.
Choose the Perfect Dress
You deserve to feel like the best version of yourself on your wedding day. That's why finding a bridal gown you feel amazing in is important. Start looking at pictures of wedding dresses so that you can get a clearer picture of what your tastes are. Set a budget for your gown and try on dresses in your price range.
When you visit a bridal shop for the first time, tell the consultant what you're drawn to. You may want to show them pictures of dresses you love. While you should try on styles that appeal to you, you should also be open to different styles. The stylist may recommend styles that are flattering to your body type.
You'll get a better sense of how your gown will look on your wedding day if you wear the right undergarments. It's best to wear nude, seamless underwear and a strapless bra when trying on dresses. Take pictures of your favorite looks to compare them later on!
It can take months to produce a wedding gown, and most dresses undergo alterations. That's why it's best to start planning for dress shopping early on. Give yourself plenty of time to find the dress of your dreams.
Find a Magical Venue
When it comes to wedding venues, you'll have many options. Look for a venue that fits your needs and aligns with your tastes. Whether you're hoping to hold your ceremony at a local church or dream of getting married on the beach, your venue will have a big impact on your wedding.
Some venues book years in advance, so it's smart to start planning this part of your wedding as soon as possible. Set a budget for your venue and decide where you'd like to get married. Think about what you want your ceremony and reception to look like, and search for a venue that matches that vision.
When comparing venues, find out what the venue offers. Some venues offer in-house catering, decorations, and other essentials. With other venues, you'll only be renting event space. You'll want to be aware of additional costs before booking your venue.
There are many venues to choose from. You could get married at a private country club, a museum, or a farmhouse. Look at a variety of venues and compare your options carefully so that you can find the ideal location for your wedding.
Learn to Dance
Dancing is a big part of most weddings! In addition to sharing the dance floor with your guests, it's common for newlyweds to share their first dance in front of their guests. If you have two left feet, work on your dance skills before your wedding day. You'll impress your guests and have a great time.
While you can practice dancing at home, the best way to become a better dancer is to take a dance class. Some classes are even designed for couples getting ready for their big day. You could learn basic dance steps or a specific dance you can perform for the crowd.
When you start planning your wedding, don't just focus on the event itself. Take steps to ensure that you'll be able to enjoy your wedding. If you're not confident in your footwork or rhythm, this is the perfect time to brush up on your dancing skills.
Choose Your Wedding Decor
Decor plays an important role in any wedding. When deciding on wedding decor, you may want to choose a theme for your wedding. You can use your theme as a source of inspiration. From there, you can find decorations to bring your theme to life.
Flowers are always an essential component of wedding decor. You'll likely need lots of flowers for your wedding, so you should talk to florist shops as soon as possible. If you tell a florist your preferred colors or styles, they should be able to suggest flowers you can use for bouquets, centerpieces, and more.
You may want to look into unconventional wedding decorations besides flowers. Hanging draperies can be a great way to show off tall ceilings or wood beams. Unusual items, like rugs or vintage furniture, could give your wedding decor a more distinctive look. Check out pictures of other weddings so that you can get inspiration.
When planning your wedding, figure out what decorations you'll need. Some wedding venues are already decorated, but with other venues, you'll have to provide the decorations yourself. When your wedding venue is beautifully decorated, you'll have a perfect backdrop for your wedding photos.
Ensure Transportation for Guests
Weddings unite people, so you'll want to ensure your loved ones can join you on your wedding day. Some of your guests may need transportation to the event, especially out-of-state guests or older family members who may be unable to drive themselves. You can work with a vehicle rental company to rent cars for everyone that needs them.
Besides finding suitable transportation for your guests, you'll want to think about how the wedding party will arrive at the venue. You may want to look into limousine rentals or rent a vintage car to bring you to your wedding. If you choose a car with a great look, you can even include it in your wedding photos!
It's easy to overlook things like transportation when you start planning your wedding. Set aside time to think about how you and your guests will arrive at the venue. With extra planning, you can make it easy for your loved ones to join you on your wedding day.
Pick Out a Delicious Cake
Your cake will be one of the highlights of your wedding day! While you should try to choose a beautiful cake that will complement your wedding decor, you should also consider how the cake will taste. Set up a tasting appointment so that you'll have the chance to sample lots of different cakes.
While more traditional options, like vanilla or chocolate, are always a good choice, you may also want to consider more unusual cake flavors. For example, you could choose a wedding cake seasoned with natural fruit powder! You could also try fun flavor combinations, like chocolate chai or banana cinnamon!
If you're not a fan of traditional wedding cakes, there are other options to consider as well. It's becoming increasingly common for couples to serve cupcakes at weddings! You could also serve more than one cake, giving your guests options. Don't be afraid to think outside the box when selecting your cake.
Since wedding cakes often have complex designs, ordering your cake isn't something you should do at the last minute. If possible, you should talk to a baker shortly after you start planning your wedding. This will give you plenty of time to find the perfect cake.
Choose Stunning Accessories
Finding the right wedding dress is important, but accessories will bring your look to life. Accessories can also be a way to incorporate traditions into your wedding, like 'something borrowed' or 'something blue.' From your shoes to your jewelry, ensure you have everything you need for your wedding look.
Do you plan on wearing a veil on your wedding day? Would you prefer a different head ornament, like a tiara or a flower crown? If you're unsure what you want, try different accessories with your wedding dress. That way, you'll have the chance to find a look you love.
While you should consider the accessories you'll be wearing, you should also think about your wedding party. Would you like your bridesmaids to wear matching necklaces? You may want to visit a shop that specializes in jewelry design so that you can create necklaces for all your attendants. These necklaces can also make a lovely bridesmaid's gift.
It's easy to overlook accessories when you start planning your wedding, but you'll want to think about them before you plan your big day. Take the time to choose the right accessories for you and your attendants. Find beautiful, comfortable pieces that you'll love wearing.
Find an Amazing Wedding Photographer
Your wedding will be over in a day, but if you hire the right wedding photographer, you'll have plenty of pictures to look back on after the wedding is over. When choosing a photographer, take a close look at their wedding portfolio. Photographers usually have a specific style. Try to find a photographer that takes photos in a style that appeals to you.
It's also important to consider other factors, like the lighting at your venue. If you're getting married at an outdoor venue, you should look for a photographer that's taken pictures at similar venues. That way, you can get a better idea of what your own wedding pictures will look like.
If you plan on taking engagement pictures, you may want to use this photo session as a trial run for your wedding photographer. That way, you'll have a chance to see examples of the photographer's work before you make a decision. It's a way to get a first-hand view of their style!
When you start planning your wedding, you should also look for photo ideas. Do you want to take some playful pictures at the wedding party? Are there specific moments that you want to capture? You can share these ideas with the photographer that you choose.
Ensure You're in Good Health for the Big Day
No one wants to feel sick on their wedding day! While weddings require lots of planning, you should ensure that you care for yourself throughout the planning process. Follow a healthy diet, drink lots of water, and sleep well each night. You may want to take some supplements to ensure you get all the nutrients you need.
You'll probably get stressed while planning your wedding. Stress can take a toll on your physical and mental health, so you should keep your stress in check. Experiment with different stress management techniques. You may find that yoga or meditation helps you to relax.
It's a good idea to schedule a checkup with your doctor when you start planning your wedding. That way, you can address health issues before your wedding arrives. Your doctor may also be able to offer you guidance if you're planning to start a diet and exercise plan. If you plan to lose weight before your wedding, you should do that in a healthy way.
Perfect Your Smile
You shouldn't be afraid to show off your smile during your wedding! If you're unhappy with your teeth, take the time to address those issues before your wedding. For example, you may want to schedule an appointment for teeth whitening.
If you have gaps in your teeth, or if some of your teeth are crooked, you may be able to correct those problems by wearing Invisalign aligners. Make an appointment with an orthodontist and tell them you're interested in aligners. It takes time to straighten teeth, so it's best to get started early.
There are also plenty of ways to correct missing teeth. For example, you could get a dental implant or wear partial dentures. Cosmetic dentistry has come a long way in recent years, and there are more ways than ever to fix damaged teeth.
Many people are ashamed of their teeth, which causes them to hide their smile. Since your wedding is one of the happiest days of your life, you shouldn't be afraid to show your smile off to the world. Address your insecurities so you can smile confidently on your wedding day.
There are many things that need to be considered when you start planning your wedding. While wedding planning sometimes feels overwhelming, it's easier to put things together if you begin planning as soon as possible. Give yourself ample time to put together the wedding of your dreams.